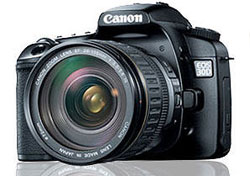 Canon's line of EOS cameras continues to be extremely popular as it enters the 20th anniversary of its production, Canon said. It also markets the 70th anniversary of the company as a whole as production of the EOS series charts past 30 million units.
Canon recounted some of its history of the EOS cameras, saying it first released the EOS 650 AF SLR camera in March of 1987. The company has continued to build on that tradition since, releasing new models as technology through the years. Examples of this include an AF function that allowed users to select a desired focusing point just by looking at it, its first digital camera with proprietary CMOS sensor in 2000 and, more recently, a revamped camera system.
Canon added production of EOS Digital-series SLR cameras has passed the 10-million unit threshold.