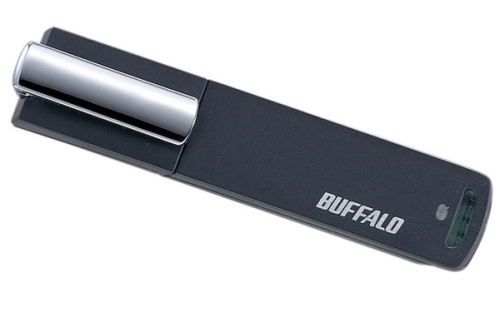 Buffalo has announced the release of a new flash memory stick that can hold up to an impressive 32GB of data. Your first thought might be to wonder just how long it takes to transfer 32GB of data to the drive through USB. Although it still might not be real quick Buffalo is assuring us that their TurboUSB technology will get the data onboard 20% faster than a standard USB drive.
Since the value of the data stored on a drive usually increases with the amount of data the company has added a little clip to give a little help against losing it and also has a manual "lock" switch to protect the data from being overwritten. The drive will work with just about any OS but Windows users can take advantage of software that will automate backups and provide a password-secured portion of the drive for storing private info.
Buffalo does sell its products in the U.S. but this 32GB model is currently going to be available only in Japan for around $280, but hopefully will come our way soon.
Product Page (google translate) via Akihabara News and Electronista