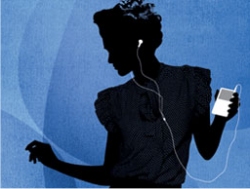 According to the Financial Times, Apple is finally getting ready to announce a deal with Twentieth Century Fox to offer Fox movies available for download through iTunes. The service would allow users to download Fox movies as a temporary digital "rental". According to the source Fox is also working out a feature on their physical DVD movies that would let DVD owners temporarily transfer the movie content from the DVD to a digital player like an iPod or a computer using Apple's DRM.
This is something that Apple has been trying to get going for a while but has met some resistance with most studios, likely for fear of losing sales due to a higher piracy rate of movies and lower costs of ownership. Another issue is the threat that this poses to video on demand services from places such as Comcast and DirectTV. Apple currently sells some movie titles on iTunes from Disney and Viacom but has not had as much luck getting the ball rolling with video as it has with online music purchases, which more that likely has led to a rental offering.
No pricing for the rentals have been given out quite yet, but rumors that we heard back in June had said the videos would be a 30 day rental for $2.99 with a DRM protection that would prevent copying but would allow transferring the movie to one other computer or mobile device. More on this deal is sure to come in the next few weeks.