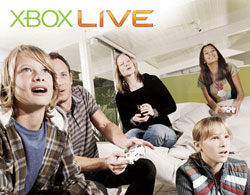 Can you believe Xbox Live, the online arm of Microsoft's Xbox 360 video game console, turns five tomorrow? Neither can we. That being said, this is a shining example of an area where Microsoft held on to become a dominant force in a vertical category. To celebrate this crowning moment several announcements were made which should make things even more interesting.
For starters, Microsoft is giving away for free between 12:01 a.m. PST on Nov. 15 and 11:59 p.m. PST on Nov. 16 an Xbox Live Arcade game for download. Of even bigger interest to gamers, particularly fans of the original Xbox, is word of a free system update which will offer, among other enhancements, the ability to purchase and download original Xbox games. These Xbox Originals look to initially include Halo," "Psychonauts," "Crimson Skies: High Road to Revenge" and "Fable," among others.
Microsoft said this new service will be available beginning December 4. That should be some good news to the over 8 million users of the Xbox Live service.
Microsoft, Xbox 360, Xbox LIVE