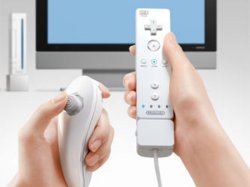 Black Friday is fast approaching and although the Nintendo Wii has held strong as the leader in U.S. game console sales for the past year it may not be the case for long. When we first heard Nintendo of America President Reggie Fils-Aime talk about Wii console production shortages we suspected it was part of a marketing plan to create a greater demand for the consoles. After all, creating a sense of urgency is one of the most common sales tactics around.
Now that we are into Thanksgiving week and one of the biggest retail shopping days of the year is within site, where are all the Wii's at? I'm starting to think that this is not part of a marketing scheme and that Nintendo really doesn't have enough, although it is still surprising to me. The company has had a clear lead in console sales all year long and have been under demand the whole time. We've been reporting about the lack of availability as far back as January and Nintendo has had almost a year to catch up.
It seems natural for people to want what they can't have and keeping a high demand for the Wii (along with its popular family-oriented games and cool controllers) has kept it a front runner, but how long will people wait? With Christmas fast approaching I'm guessing that many parents who want to buy a game console are going to buy one whether its a Wii or something else, and for a lot of parents that I know the Sony PS3 is starting to look a lot more inviting.
The PS3 is a little more expensive at $399 compared to $249 for the Wii but it comes with a 40GB (or bigger if you pay more) hard drive and a high-def Blu-ray player which can help justify the higher price. Also the cool Remote Play feature integrated with the Sony PSP doesn't hurt either.
So, for those of you out there looking to get a game console in the very near future: Will you actually wait to get a Wii?