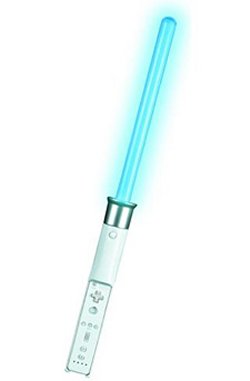 It's about time we start seeing some Jedi action on the Wii. Star Wars: The Force Unleashed is headed to the Wii next Spring, but in the meantime you can get your Star Wars fix with this new lightsaber attachment. You can get it now from Play.com.
A few features are a power up/down effect for saber glow. It can also be dimmed down. It sports 22 ultra-bright LEDs and an on/off switch. You'll need 3 AA cells to keep it lit. These are scheduled to ship later this very month. $31 is all it takes to be a very happy Jedi.
To qoute Ben Kenobi, "The light saber is an elegant weapon from a more civilized age."
I don't know about you, but I can hardly wait to cut down some Stormtroopers, a sith or two, and even C3PO if I must.
Controllers, Light Sword, Wii, Wii Accessories