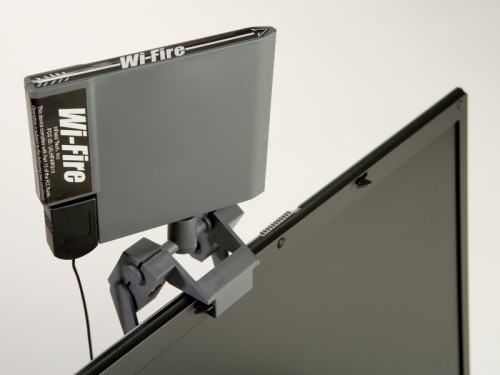 Today hField technologies announced the release of a new version of their Wi-Fire long range USB Wi-Fi adapter that is now compatible with Windows Vista. The Wi-Fire adapter works with any 802.11 b/g and provides a high gain directional antenna so you can pick up Wi-Fi signals from a lot further away than most adapters and often get faster transfer speeds.
According to hField, the adapter can pick up Wi-Fi signals from as far as 1,000 feet away, which is about 3 times the distance most other standard adapters. The device is fairly small measuring only 3×4 inches and can stand alone or be mounted on the top of your notebook. It can also be folded up to store easily in your notebook case.
The Wi-Fire for Mac was just launched in August and hField says they also have a Linux version in the works, too. The launch of this version for Vista coincides with hFields connection manager software for both Windows XP and Vista providing integrated software for managing your Wi-Fi connections with the Wi-Fire. It connects to your computer through an included USB cable and the device retails for $79.00.
Thanks for the tip Stephen!