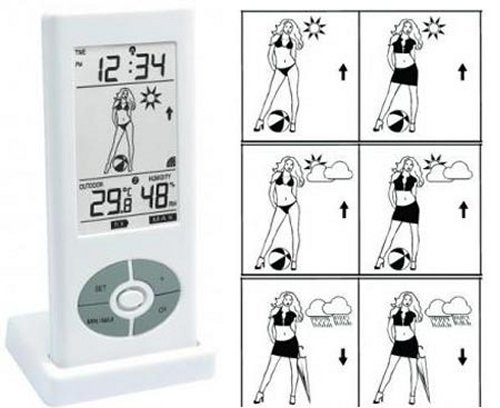 You know those cable stations peppered around the globe where they have a stripping newswomen? Well, this is the digital weather version. A weather girl strips piece by piece to tell you the time, temperature and the humidity. Ok, she doesn't really strip in the traditional sense. She changes her clothes depending on the weather. What a tease!(Both her and the manufacturer.)
If it's hot enough, she'll get down to just her bikini. No word on how she bundles up during the winter. The winter months would obviously be very un-stimulating for any guy that happens to be turned on by this digital diva.
Judging by the ipod like design they probably should have called this one the "iStrip". Should you be in need of a special weather girl in your life, she's a cheap date at only $70.