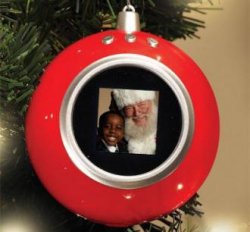 It was only a matter of time. In some distant future we may even have a tree full of programmable hologram ornaments. Right now there is the new USB Santa's Slide Show Ornament. It displays up to 50 photos on a 1.5 inch color LCD screen in a red ornament. It can either be mounted on a Christmas tree or displayed on a small stand. Connect it to your PC with the usb cord and transfer photos directly into the ornament.
You aren't limited to just displaying a single frozen image either. Create amazing slideshows. Imagine a slideshow of previous Christmas images to thrill Grandma.
Putting the ghost of Christmas future on your tree will cost you $34.95, but be warned of one typical and dreaded Christmas phenomenon…No battery is included. It requires two AAAs.
[Everything USB] VIA [Wanting It Bad]