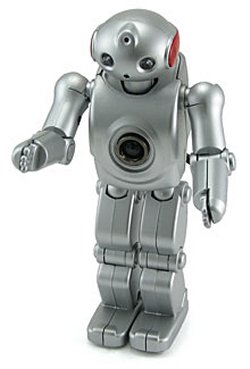 Personally I love all things robot. When I saw this little guy, I knew that my life was not yet complete somehow. He has a great, ultra-cute design and would definitely add some coolness to your computer area as well as making the life of a blog writer a little less lonely. I think he and I could be good friends.
He has 350k pixels, which means his maximum resolution is 640×480. The LED eyes actually illuminate at night, plus he has a microphone so you can speak to others while video-conferencing. The mic is an essential element here, after all I will be telling people how cool my little robot buddy is. So what if they get creeped out. It's just me and my BFF robot.
At 6″ tall, he has 11 points of articulation as well, so you can pose him in a variety of ways. You can pick up this bundle of robot cuteness for only $19.99.
[Think Geek] VIA [Gadgetmadness]