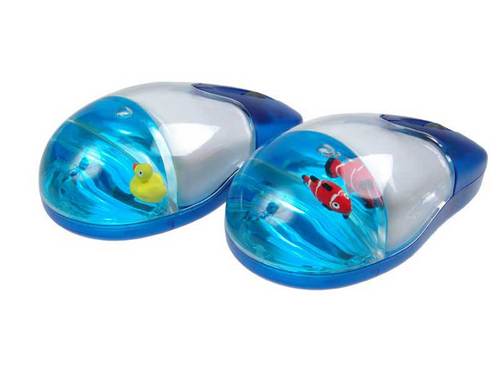 I'm not sure what the fascination with putting fish(fake or real) into strange devices lately is all about, but combining fish with gadgetry is getting a little out of hand. The other day I told you about the Fish In Space aquarium. Now I bring you the aquarium mouse, complete with fake fish.
Apparently, you can order a mouse aquarium with fish OR one with a little rubber ducky. I suppose if you really love fish and have a fish themed life, like sea-life wallpaper and a cabinet full of fish figurines, you might want to point and click with a liquid mouse.
It operates on 800dpi Radio Frequency wireless transmission technology and will Work from up to 2 meters from your notebook or desktop. PC and Mac OS or Notebook compatible, with built-in 2 x Rechargeable Ni-MH batteries.