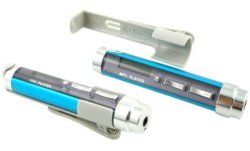 If you needed proof that Star Wars was way ahead of it's time, here it is. This new Music Stick resembles a small lightsaber. It might even be the most lightsaber like product that is not actually a lightsaber. Of course, it may just be that the manufacturer wants to capture the hearts and minds of geeks everywhere. Either way, this is a slick looking mp3 player.
It features a 2GB or 4GB storage capacity, has a small display for track information, FM radio, voice recorder and a High speed USB 2.0 connection. The formats it supports for playback are MP3, OGG, WMA and WAV (PCM/ADPCM).
I wouldn't count on it making you an instant Jedi, but it looks like a must have. The price is not bad at $27.37 for the 1GB and $42.57 for the 2GB. So to paraphrase Yoda, Buy or Buy not, there is no try.
[i-Pmart] VIA [TechFresh]