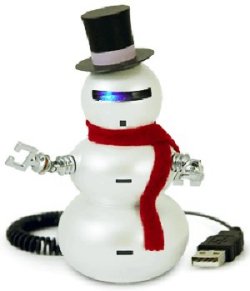 I've seen alot of cool robot toys and desk accessories over the years. I have to admit, I have never seen the combination of robot and snowman. It pleases me.
Not only is this robot bent on taking over the human race, it apparently has the winter season in mind for it's objective. It's got articulated arms and an eye scanner like a cylon from Battlestar Galactica, which can change color. You can also control the speed of the scanner with a knob. They say that it also has Authentic Snowbot Sound. But I've never heard a snowbot so I don't know what to expect sound-wise.
At $12.99 it won't be long until they take over the planet, beginning of course with the cold regions, then handing it off to other robots for those warmer regions and seasons.