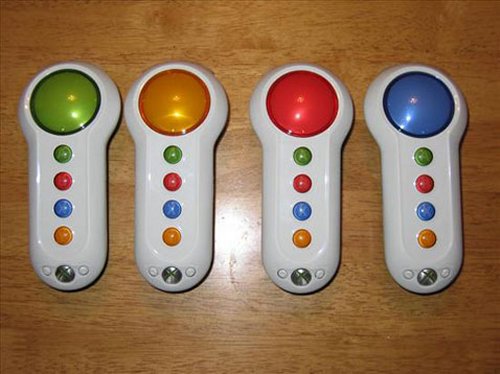 The first thing you'll notice is that these controllers look like some sort of cartoon thermometers or maybe some weird electronic Candyland Game accessory. These big buttoned Xbox 360 controllers are strange to say the least. They come bundled with the new Scene It! game.
The big buttons are colored the same as the standard four buttons from the Xbox 360 controllers, just vertically aligned below the big button. The large button is for that game show moment when you slam the button and submit the right answer, cuing loud music and confetti raining down on you. It also has the Xbox gem and a "Start" and "Back" button on each controller. You get all 4 controllers with the $60 game.
They look strange, but I suppose it goes along with the game and the overall experience.
[Kotaku] VIA [Robot Ramblings]