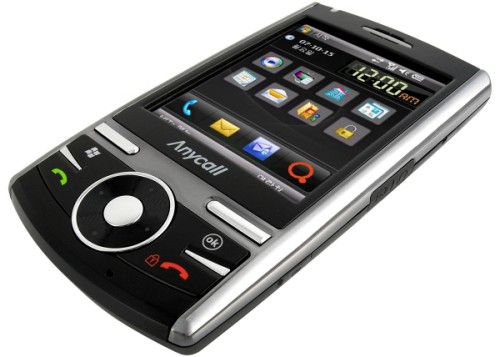 Samsung has announced the launch of this cool-looking touch screen smartphone as one of the many chasing after the popularity of the iPhone, and this one actually looks not half-bad. The Samsung SPH-M4650 smartphone is just 14mm thick and features a 2.8-inch QVGA touchscreen that will buzz your finger with a little tactile feedback when you move it over the virtual buttons, helping you press where you should be pressing.
The phone runs on Windows Mobile 6 Professional with a Marvell 624MHz PXA300 processor and packs in a 2MP camera, Bluetooth, a full-browser to see web pages in their original format, and a DMB TV tuner which is real cool if you live in a country that broadcasts DMB TV.
The Samsung SPH-M4650 is launching in the Korean market, retailing for the equivalent of $550 to $660 dollars.
via Aving