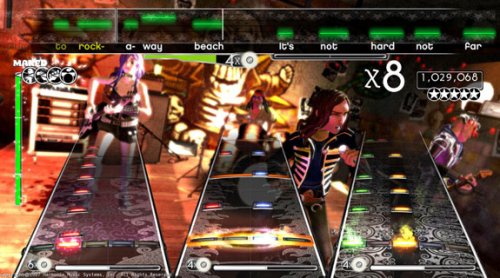 Harmonix and Viacom's "Rock Band" has made an impression at stores and stood guitar fret-to-fret with Activision's rival franchise and latest entry "Guitar Hero III". However we don't know exactly how well the rhythm game is doing in sales. The only thing we have to go on are the enthusiastic reports on gaming message boards and what a representative of MTV Networks, owners of the game, said that the game has been "flying off the shelves" during the first week of sales.
"Downloads are going great, rockband.com is going great with people logging on and downloading stuff from there," said Mika Salmi, a rep for MTV's digital division. "It's got a lot of legs, we're in it for the long term."
By comparison Activision was fast to release sales figures for the first week of sales for "Guitar Hero III", a huge $115 million dollars worth. "Rock Band" costs around $170 for its reproduction guitar, microphone and drum kit whereas "Guitar Hero III" comes with just a guitar and retails for about $100. Both products are offering extra downloadable songs and are planning expansion packs for release in the new year.
However not all the would-be rockers are having the time of their lives. Owners of the PlayStation 3 version of "Rock Band" and who also have the "Guitar Hero III" guitar controller are finding that the promised compatibility between the Activision guitar and the Viacom video game aren't as promised. Harmonix has issued a statement saying that they are working on a way to correct the compatibility problems but for gamers that bought an instrument free copy of "Rock Band" hoping to play it using their "Guitar Hero" controller the wait may be a long one.
via Reuters