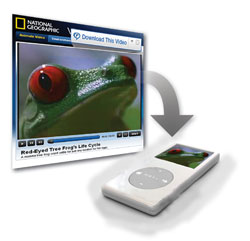 RealPlayer. You remember that multimedia application, right? That's the other program besides iTunes or Windows Media Player which lets you enjoy media files on your computer. RealNetworks, the company behind the program, is officially out today with the latest incarnation known as RealPlayer 11.
RealPlayer 11, depending upon if you are using the free or pay for version, lets you do a number of interesting features. You can, for example, transfer video content to iPods, which means RealNetworks is now encroaching upon Apple territory. The software will also let you now do "one-click" downloads of video you might otherwise normally stream so that you can watch it offline later.
Other features include the ability to download multiple videos at the same time, download videos after you've started watching them and send links of favorite videos to friends. RealPlayer 11 itself has a new look and feel as well as reported faster video playback.