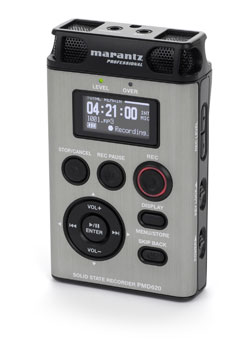 How badly do you want to make digital recordings of lectures you hear? Are you willing to shell out around $400 for the product to do this? That is the cost of the new Marantz Professional PMD620, which its maker says has been developed for "professional recording quality in a small, convenient package for hobbyists and professionals alike."
The Marantz Professional PMD620 is a handheld digital recorder which is small and makes use of SD memory cards for data storage. It offers direct-to-MP3 recording in three quality settings as well as a fully uncompressed WAV format. There's two built-in condenser microphones and also other input and output options to help you record and manage audio.
Other features of the PMD620 include a USB 2.0 port for transferring recordings to a computer, on-board audio editing, reportedly easy to use controls and LEDs which give you status on the input signal. This digital recorder is available now.