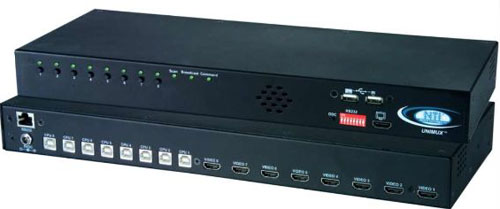 You know how frustrating it can be trying to run your illegal movie copying operation out of your basement with multiple computers and only one monitor to plug and unplug from one machine to another. Network Technologies is your new best friend in this regard, announcing a new eight port USB DVI KVM switch priced at around $980.
The NTI UNIMUX USB DVI KVM Switch allows you to connect and control up to eight single-link DVI enabled computers with one DVI monitor, USB keyboard and USB mouse (it's also available in a four port model). The switch supports 1900 x 1200 resolution and features single-link HDMI connectors to save space. NTI has also enabled this device with autoboot USB switching which boots attached computers at the same time.
NTI's switch can be controlled via the front panel buttons, keyboard commands or an optional RS232 connection. Besides helping to keep your DVD copying to task it could probably serve well in server rooms also. It should be available now.