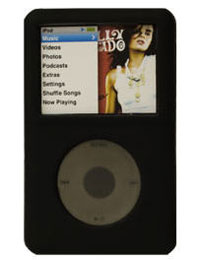 As surely as new days dawn so do new iPod cases regularly make their way to market. This time around we have the quiet, recent introduction of the PDO TopSkin for iPod Classic, priced at around $20.
The PDO TopSkin for iPod Classic is in many ways your typical, somewhat stylish iPod case. It fits the 80GB or 160GB iPod classic model and comes in four body colors. There's a clear plastic screen protector which sits in a groove inside the case to keep it in place. A layer of "silicone protection" keeps your player relatively safe, with a "play-through design" so that functions like the Click Wheel can be interacted with.
Other useful features of the PDO TopSkin for iPod Classic include textured side grips, a belt clip and a wrist strap. This iPod case is available now.

PDO TopSkin for iPod Classic [via iLounge]