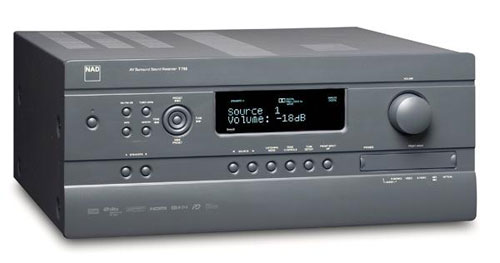 NAD Electronics, an audio-video manufacturer, is introducing three new A/V receivers to the market – the T 765, T 775 and T 785. The T 785 seems to be the most interesting of the lot, priced at around $3000.
The NAD T 785 offers up four 1.3 HDMI inputs for those who have multiple HDMI hardware pieces. It also looks to offer something called "cross conversion," which delivers "all analog-video inputs (composite, S-, or component video) to HDMI with full quality." A built-in calibrated microphone helps balance and adjust a multi-channel speaker system and "electro-mechanical configuration" reportedly makes the T 785 makes it easier to upgrade the receiver as new A/V technologies emerge.
Also thrown into the mix is the latest-generation Aureus 7.1 Audio DSP from Texas Instruments, offering what NAD says is enhanced performance for Dolby Digital and Pro Logic IIx, and DTS ES, 24/96, and NEO:6 as well as several proprietary NAD surround modes. The T 785 and other receivers should be available now.