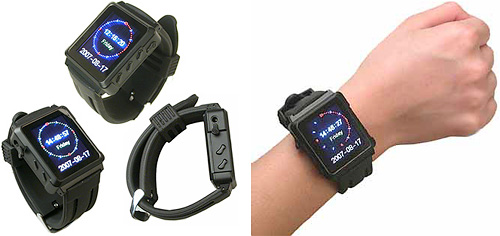 Looking for the ultimate multi-media player for your wrist? This one can even wirelessly broadcast music through a car stereo or portable radio with it's integrated FM transmitter. It also has an embedded 4Gb flash memory, a 1.8″ 160×128 pixel OLED display which they say produces bright, vivid color images. You know, if you want to watch something on a really small screen.
It's capable of playing MP3, WMA, MP4 music videos or movies, as well as displaying JPG photos, recording, e-book reading, and yes displaying the time too. As far as power, it's got a built-in Li-on battery and it can still play while charging.
The biggest plus here is that it still manages to look decent with all of these functions. It is not overly large or overly ugly. And you can get one for $126.
Just like in the old Sci-Fi movies, it's all going to be on your wrist from here on out. About the only thing this "watch" won't do is tell your star-ship to come pick you up. Give them time.
[Gadget-USB.com] VIA [OhGizmo]