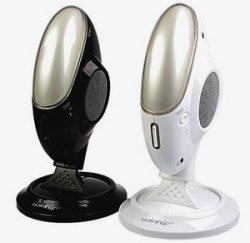 These speakers/moodlight/FM radio are simply way too cool to behold. They remind me of the Easter Island stone heads, you know, if aliens had mated with robots and then made art. For a dock, it really does do quite alot.
Raise and lower the volume by simply waving your hand across the infrared sensor. You can tune the radio by the same means. No need to press any buttons. Of course you can plug your mp3 player into it, or turn on the radio. If you get really bored you watch the pretty mood light glow.
The Air Speaker is powered by your choice of USB Port, AA Batteries or 6V DC. It has LINE-IN/OUT Ports, so you can connect to your PC or music player and play your favorite music. This is a beautifully designed product and the price is attractive too at $64.90.
[Product Page] VIA [Red Ferret]