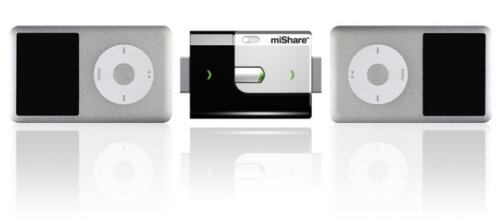 This could be a huge pain in the Apple for…well, Apple. The MiShare allows iPods to share information without a computer. Say your friend has pictures, playlists or mp3s on their iPod, that you would like to have on yours, but you don't want to go through the trouble of getting out the laptop, charger cable, and iPod reverse transfer software.
MiShare makes it easier with direct iPod on iPod action. Just attach both iPods and press miShare's button to start the transfer. It won't disable iTunes DRM, but if you have regular MP3s you can now share away. The miShare is battery powered, and can be charged with an included AC adapter.
It will cost you $99 and should be available before Christmas. If you are interested, act soon before Apple decides to put out an iTunes udpate and brick this thing.
copy ipod songs, iPod, MiShare