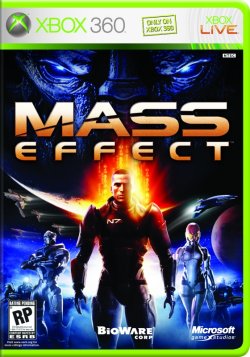 Today marks the arrival of BioWare's next role-playing game. The creators of "Star Wars: Knights of the Old Republic" and "Jade Empire" return with a new science fiction IP they call "Mass Effect" made exclusively for the Microsoft Xbox 360.
The game lets you assume the role of a human military officer named Samuel Shepard. Set in the distant future when humans have colonized the galaxy and interact with alien races, Shepard is given orders to investigate a discovery on a far-off planet that could jeopardize the lives of hundreds of billions. By interacting with non-player characters, using the squad-based combat system and exploring alien worlds in search of clues you will uncover the cosmic danger that lies in store for the galaxy and hopefully find a means to prevent disaster.
The game comes in two versions, the regular game ($59.99) and a Limited Collector's Edition ($69.99) which includes a fiction book titled "Galactic Codex: Essentials"; an art book titled "A Future Imagined"; a bonus DVD featuring four exclusive documentaries about the creation of this epic game titled "Inside BioWare"; and 10 songs from the game's soundtrack.
If "Mass Effect" is a commercial hit BioWare has made plans to turn it into a trilogy. Does that sound familiar to you "Halo" fans?