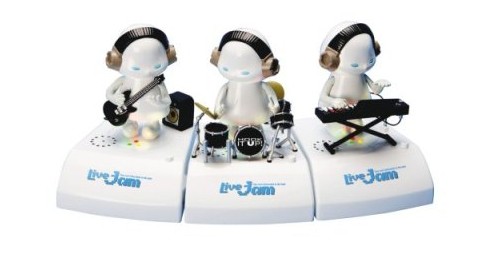 With Live Jam, you can watch your little albino musicians(Who kind of resemble the Pillsbury Doughboy, but more fit) play individually or you can put them together to give performances that will rock your world as they interact with each other.
Each musician can connect with other Live Jam musicians to form a band. Apparently, they have some unseen roadies too, because they have multicolored LED stage lighting that sets the mood. They come in your choice of Drummer, Guitarist and Keyboard player.
The rocking threesome each have built in speakers, and come loaded with 8 prerecorded tunes. They are fully compatible with most portable music devices. At $24.99 each, the manufacturer is nice enough to include the 2 required AA batteries.
Yeah, I've seen it all before. It's all rockin' and rollin' until Live Jam Yoko Ono shows up.