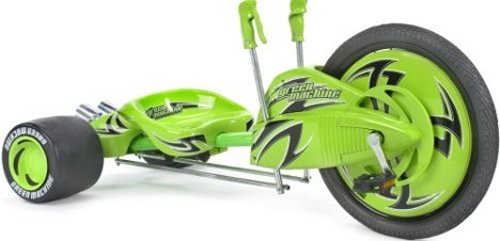 The Green Machine 2 looks like a Big Wheel on steroids. It sure doesn't resemble that old Big Wheel that I rode around in as a kid. It's got a sleek design and can be controlled with dual joysticks. It even has rear wheel steering and a 20″ front tire, along with a front wheel hand brake.
Of course just like it's ancestors, this one is completely dependant on kid pedal power. I wish mine had been this cool. Mine certainly didn't have a High tension steel frame, or a real rubber front tire. I guess as long as you can still peel out on these things it's all good. This new version is definitely eye-catching. A great new spin on an old classic. You can get one for your kids for just $126.17.
No word on top speeds, but they can be acheived with a steep hill and a helmet.