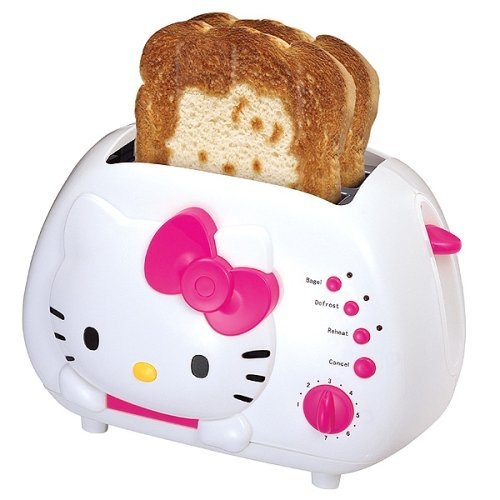 What Hello Kitty fan's kitchen would be complete without having a Hello Kitty toaster? Not only does this thing bring the annoyingly cute Hello Kitty brand into your home but the toast that's created also bears the Hello Kitty face outlined in burned bread on one side of each and every piece.
As much as it pains us to say it, we actually have to admit that we like this image-burning toaster design better than others we've seen. The Pop Art toaster we saw last fall allows you to insert templates to burn different designs into your bread but only a small portion of the bread ever actually gets toasted. With this model from Hello Kitty the image is the only part that's not toasted giving the desired result to the majority of the bread. How's that for geeky logic?
Chances are however that the true Hello Kitty fans that would actually buy this toaster will have little or no concern about how well it actually works and will be more captivated by the pink and white. If you are interested, the toaster does come with 7 different heat settings for toasting "doneness" and has modes for reheat, defrost and bagel with extra wide slots. It even has a place to roll up the cord for storage in the base. The Hello Kitty toaster can be added to your collection for the current going rate of $19.99.