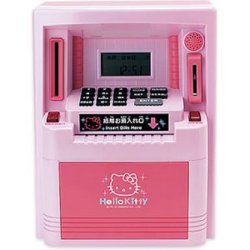 Continuing the toy trend of products that teach our kids to be good little consumers, is this pink as usual Hello Kitty ATM bank. Proof that the Pink Nightmare (at least to us guys) known as Hello Kitty is alive and well and in no danger of facing extinction.
Don't be confused. Yes, banks are supposed to help you save money. They probably shouldn't teach you to blow it on Pink branded products. The bank comes with a "Hello Kitty cash card" so kids can practice the removal of money from an ATM.
And just like that we lose yet another youth or 10,000 to the Pink. Imagine their surprise when they grow up and find that ATM's are not pink with Kitty faces… By that time, perhaps they will be… (I will now scream and clock out early).