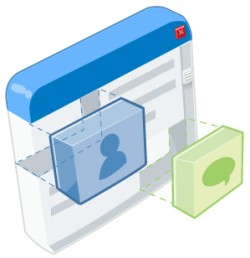 Only on Thursday Google had made the announcement about its new OpenSocial platform and already news in cropping up of developers taking advantage of this open, common platform. In their announcement we knew there were going to be a number of social networking sites that were already onboard with the new API's, including Salesforce.com, Hi5, LinkedIn, Ning, and of course Google's Orkut but we weren't expecting the giants like MySpace or Facebook.
As it turned out MySpace actually is going to take advantage of OpenSocial along with Bebo, another large social networking site. The one clearly left out of this picture was Facebook, in which this launch echoed a mighty blow to with many of the more significant social network sites in the world taking part in a common platform without them. According to Wired, Facebook representatives maintained that they had "still not been briefed on OpenSocial" despite Google stating that they had, and Facebook employees showing up at Google's developer sandbox event.
The OpenSocial platform was designed by Google to give third part developers a single common set of API's to build applications and widgets against. Any sites that supported the API's would be able to run these applications without the developers having to rewrite them for each social networking site.
In the short time since Google's announcement we're already seeing news of applications cropping up including the FunWall from >Slide which is already implemented on Hi5, a movie application running on Ning from Flixster and a tool running on SalesForce.com based on the OpenSocial API by Theikos for viewing co-worker's clients to help with sales contacts. Plaxo also has a tool built on the API's to create and view profiles which like all of these aforementioned tools can work on any social networking site supporting the OpenSocial framework without rewriting them, and only minor changes to the look and feel to match the sites theme.
The launch of OpenSocial seems so far to be an instant hit and will make more of these "widgets" available for more sites which is great for the 3rd party developers, however it could cut down some on the uniqueness and individual advantages for each of the sites. One of the big questions is where Facebook is at in all of this. Are they going to stand and fight with their own "open" platform, join in with OpenSocial or do they have something else in the works altogether?
Facebook, Google, MySpace, OpenSocial, social networking