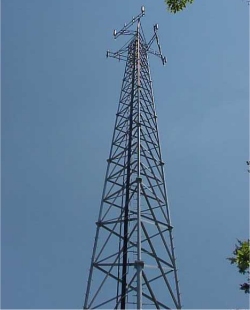 Today Google launched a new beta application that is a small twist on Google Mobile Maps called Google Maps with My Location. The new service runs on Java and is designed for use in mobile devices that may or may not have GPS capabilities to help map the current location of the mobile user.
When launching the new location service application, it can use the phones GPS if available to find your location and mark it on the map with a solid blue dot. If GPS is not available on the mobile device or its maybe being used in a location that cannot receive the GPS signal the service will use the information of the cellular tower that the phone is connected in order to find the general location of the user.
Google says that the location found with the cell towers is accurate within about 1,000 meters and its not done through triangulation of towers receiving the signal. It instead is simply based on the range of the tower the phone is currently connected to and the accuracy can vary depending on the location and range of the tower. When Google Maps with My Location finds the current location via the cell tower it will put a lighter blue halo around the solid blue dot indicating that the current location is less accurate.
Google says the service provides more accurate search results by using the current location, giving users more relevant results when looking for a local motel or restaurant, for example. The application could also prove very useful for geo-targeting advertisements to mobile phone users which seems like a very likely goal for the search engine giant, but no advertising is currently displayed in the beta version of the app.
The application from Google is free to download and will work with most web-enabled mobile phones including BlackBerrys, phones running Windows Mobile and Nokia phones.
Google, Google Maps, GPS, My Location, towers