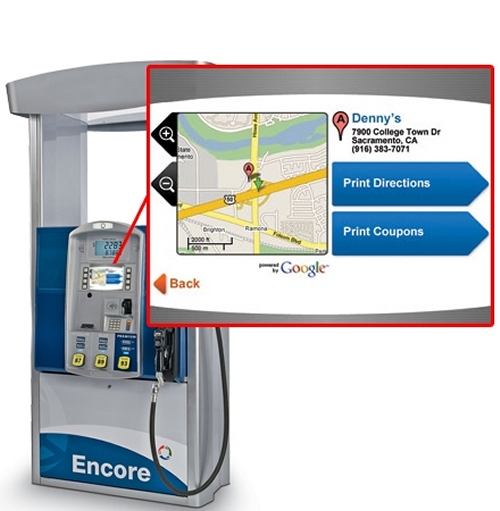 Google has recently made an announcement that they will be making their way into your mobile devices and while your out driving around, starting next month you may start seeing Google Maps at your local gas station.
The internet search giant is expected to make an announcement tomorrow that they will be working with Gilbarco Veeder-Root, a gas pump maker based in Greensboro, N.C., to provide pumps at gas stations that have an internet connection and have interactive maps from Google on them. The maps will allow motorists using the pumps to scroll through a list of local landmarks and print out directions to them, all the while holding up the guy behind them a little longer while they fiddle with the new feature.
Surprisingly Google has no intentions of selling and profiting from advertising space on the pumps, although the owner of the gas station can make some extra coin by providing coupons for other local merchants. The owner of the station will also have some control over what local landmarks are listed on the service, including things like restaurants, hospitals and hotels. And, hopefully they'll have a little more productive workday when they're not having to explain quite so many driving directions. The new maps service will be rolling out initially to about 3,500 pumps and then expand based on retailer requests.
Gas Pumps, Gilbarco Veeder-Root, Google, Google Maps