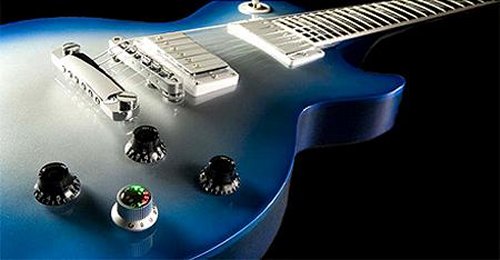 Music and robotics have had a strange relationship. I have seen bands with robot singers, robots playing instruments and more. Now Gibson is taking robotics and applying them to the guitar. Thanks to integrated electronics and motorized mechanics, this instrument can automatically tune itself in various configurations.
This is big news for performers. With something like this they only need to carry one guitar with them instead of several differently-tuned instruments. They plan a limited first run, only available in select stores.(Some in the U.S. and Europe and a few on other continents apparently)
Just pull the knob on the guitar and little LEDs pop up and put the robotic aspect into action. That one knob is used for tuning, setting the intonation, string tension, and displaying the battery level. It also has 6 tuning presets, which are the most often used. They can be customized too.
I don't think people will be able to "Cheat" playing the guitar with this thing. It won't make you a Rock and Roll star overnight. It will provide amazing convenience for those who play, however.
[Coolest Gadgets] VIA [GizmosInsight]