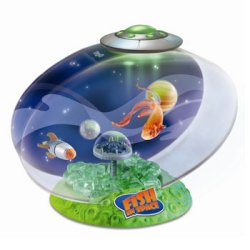 Here is a very cool looking retro Sci-Fi style aquarium called Fish In Space. It's also very small for the poor fish. The thing is only powered by 2 button cell batteries for goodness sake. How would you like to be the fish whose life depended on 2 button cell batteries? It has glow in the dark stars that look neat in the night time. The UFO on top beams some cool lighting into the aquarium too. I bet the fish wishes that it would abduct it's sorry scales out of there.
Still isn't it every intelligent civilization's goal to put fish into outer space? Well, after seeing the picture, I think we can all be convinced that it should be right at the top of the list.
You can't beat the price of $21.95 either. NASA can't do it that cheaply. In case you are wondering, this is a 1/2 Gallon of fish real estate.
[Wrapables] VIA [Robot Ramblings]