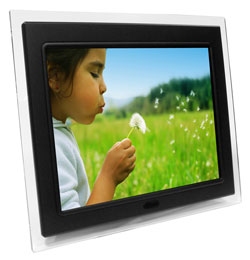 EDGE Tech Corp has a new 12″ digital picture frame coming to the market in time for the holidays with a competitive price in which they are touting as the most affordable 12″ frame currently available, priced at $129.95. The frame measures 13″ x 2″ x 10.5″ with a 12.1″ screen size putting out an 800×600 resolution of your favorite digital photos.
Like many digital picture frames, this one has a slideshow feature with transition effects between pictures, but unlike many picture frames it also has integrated speakers and can playback MP3 files right through the frame. This is a nice combination of features, giving you one device to have in an office or kitchen that scrolls through your family photos as well as plays back some of your favorite tunes.
The photos and MP3 playback can be controlled through an included super-thin remote control and the picture frame supports a number of popular media types including AVI, BMP, JPEG, MPEG-1, MPEG-2, MPEG-4, WAV, and WMA. It can also load media from a nice array of common sources such as SD, MMC, Memory Stick, CompactFlash, and Microdrives. It also has a USB connection where you can plug your USB thumb drive directly into the frame.
The EDGE 12″ digital picture frame is available for pre-order now and will start shipping on November 16th.
UPDATE: The picture frame also comes with a set of A/V cables allowing you to hook it up and output your pictures a music to your home entertainment center.
EDGE 12″ Digital Picture Frame with MP3