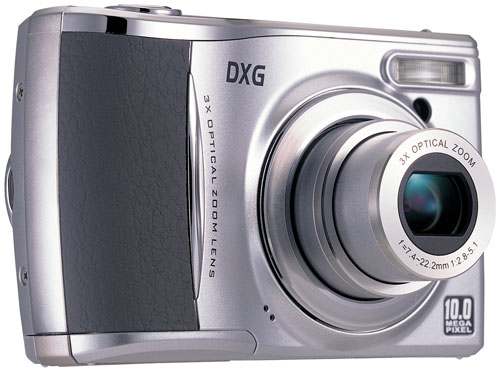 How willing would you be to go cheap for a ten-megapixel digital camera? Under $200 cheap enough for you? DXG USA is the one dangling this carrot, announcing today the DXG-110, priced at around $170.
The DXG-110 offers up, besides the ten-megapixels, 3x optical/4x digital zoom, VGA video recording, autofocus tracking, a 2.5-inch TFT color screen and face detection. It also offers some DXG calls "automatic contrast management" to "detect contrast levels and apply the best dynamic range in high contrast scenes" in 12-bit resolution.
There's obviously a whole lot of other features which make up the DXG-110. It does only offer 32MB of internal memory (expandable via SD cards) and 2AA batteries as the power source, so that is perhaps why it is cheaper? Who knows, but if you want a ten-megapixel camera for a song, the DXG-110 is available now.