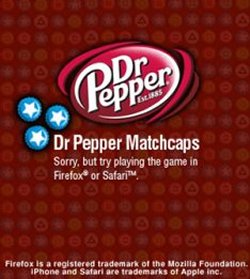 The latest in mixing advertising with games will take place on the iPhone Safari browser. The game is called Matchcaps and was specially designed for the browser.
The game will allow Dr. Pepper to interact with their consumers no matter where they are and at any time, through the iPhone. The game was developed by Imaginuity New Media, and based on the "match three" format that has been a hit with online gaming fans for years. They are expecting more games for the iPhone from February onward since Apple expects to distribute kits developers by then.
Expect more Dr. Pepper sales, followed by cooler games.