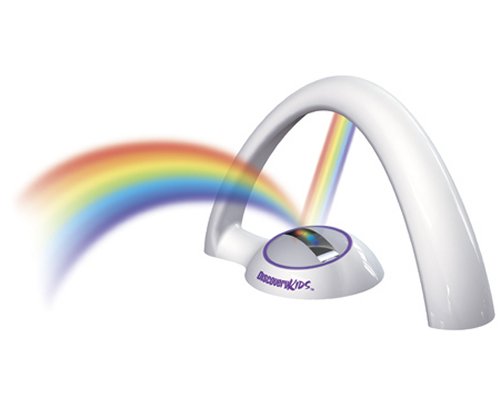 The Discovery Rainbow In My Room makes a great gift if you want to steer your kid toward Science and away from say, Halo. Though I doubt most boys would appreciate this. It fits in more in a room filled with My Little Pony's.
LED lights recreate the colors of a real rainbow and the motion-activated sensor turns the unit off with a wave of your hand.
Aside from learning about the color spectrum, you can have fun in other ways with this item. I can see real potential for a pot of gold here. Imagine traveling to bars, pool halls, anywhere where people like to bet and get drunk. Then tell them you can make a rainbow indoors. When they call you a liar and bet you money, pull this baby out and collect your winnings. Then run off a little richer, like the greedy leprechaun you are.
At $29.95 you'll make your money back in no time. It's not the intended use, but hey, Science can serve us in many ways.
[Discovery Rainbow In My Room] VIA [Gadgetmadness]