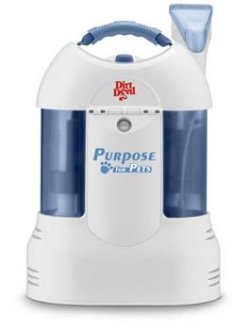 Looks like Dirt Devil is at it again. You wouldn't think that there was much room for improvement in vacuum design, but they have managed to come up with something new. A vacuum specifically designed for pet owners who have problem pets.
It's called the Purpose for Pets Portable Extractor and it boasts that it can easily treat and remove pet stains. It does this with a 3″ scrub brush and blacklight LEDs, which illuminate the hidden pet stains, such as urine, so you can find the source of pet odor in your home and deal with it. It comes with two 8 oz. solutions of Dirt Devil Pet Stain and Odor Remover, as well as Dirt Devil Carpet & Upholstery Cleaner and Shampoo.

Your animals won't know what to do with their clean new environment and you can breath easy. The price pretty reasonable at $99.99.