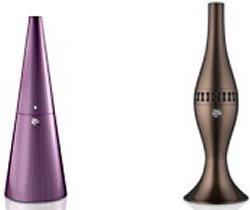 I'll be reviewing both the Kone and the Kurv hand vacuums from Dirtdevil. These are Dirt Devil's newer more stylish vacuums that don't assault your decor, while remaining handy to clean up those messes. In fact, both the Kone and the Kurv perform that function very well. Unlike most small appliances, they actually fit into and become a part of your living space without screaming to the world, "Hey, I suck up filthy stuff."
I was curious to find out which would perform better, so I divided my time between both units, back and forth. It's worth noting that these are not intended to clean your whole carpet and replace your upright, or to suck up huge disastrous, nasty, sticky, toxic spills. And it's not designed to be a full power shop vac. So, unto my impressions of both models.
I'll start with the Kone as that came on the market first. We covered the Kone briefly in October. It's pretty much a sleek looking modern pyramid that blends into your decor. Of the 2, I found this one to be more pleasing to have in my environment, because of it's modern design. I had heard complaints that this model, when turned on, created that kind of vacuum wind that some vacuums emit to counter the suction and that it was bothersome to some users. I also had heard that people in general do not like the rather odd sound of it's motor. Some complained that it was too loud.
Well, the wind does exist, but it didn't get in my way one bit as I sucked up filth. It emits enough of a wind to know that it is there, but it wasn't a bother. As for the motor noise, again it was a bit louder then I expected, and odd sounding, but nothing that bothered me. In fact, it's quieter then your typical upright. What was very telling about the sound, was the reaction that our cats had to it. You know, whenever you get the vacuum out, cats will run, because they know that the monster sound is coming soon. With both models, our cats never ran out of the room, much to our surprise. So I would have to call both models cat friendly.
As far as power, the Kone seemed a little wimpy to me. But that was only in relation to the Kurv model. The Kone works great as a vac and feels good in your hand. As far as suction, it does a good job on any light mess that arises. I wouldn't call it spectacular. As far as handvacs go, it does rank at the top. As is the case with both models, the main factor is convenience. That alone makes it worth the price.
With the Kurv they gave it a new shape and as soon as you turn it on, you can really feel and hear how they learned from the Kone and streamlined everything. The wind that is generated with vacuums? You can barely tell it's there at all. The motor is much improved and doesn't sound at all unpleasant. The power seems a bit better as well. As good as the Kone is, once you use the Kurv, there's no going back.
These models are designed with the handle end housing the motor and filter. (With the power button nicely hidden on the end of the handle I might add) The other half is a hollow funnel with a basic trap door that opens with the suction and closes once done to keep the dirt inside. The design, though simple was more powerful then I thought. While they wont suck up anything very heavy, they will take care of just about any mess that occurs from day to day living.
I have two cats and my beautiful wife has long hair. Anyone who lives with cats knows about fur, just like anyone who lives with a long haired girl knows that it's as good as having another cat. What surprised me most was how much cat fur AND hair these things would pick up. Even from areas that were clean according to my regular vacuum cleaner's standards. If you have pets, these are great hand vacs to have around.
So my final word on both models is that I have to give them a huge recommendation. Especially to animal owners. Easy on the eyes, easy to use, easy to clean.(Just twist the bottom half off and dump it out.) It's well worth having one or both of these in addition to your large vacuum.
You can get the Kone for $42.99 and the Kurv for $52.99.