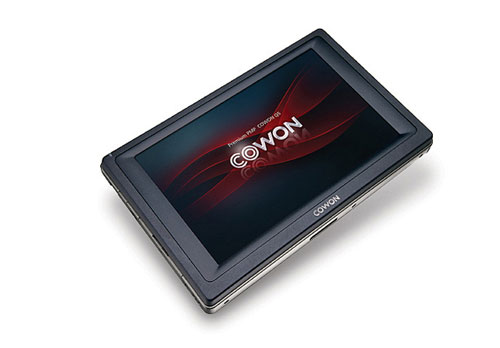 Cowon looks like it has finally begun American sales of a long awaited portable media player with wireless capabilities. The new Cowon Q5W comes in 40GB and 60GB hard drive sizes, priced at around $550 and $600 respectively.
The Cowon Q5W offers up a five-inch touchscreen display as its primary user interface. It offers both 802.11 wireless and Bluetooth wireless support and can playback many audio (MP3, WMA, ASF, OGG, WAV, FLAC, APE, MPC) and video (AVI, ASF, WMV, MPG, OGM) file formats as well as a bunch of photo (JPG, BMP, PNG, NEF(Nikon RAW file) up to 10MB) types also. It works over a USB 2.0 connection for data transfers and has audio/video playback times of 13/7 hours respectively.
Other features of the Q5W include voice recording, an integrated speaker, a weight 13.4 ounces and component video output to playback video on a larger display. It's available now.
Cowon Q5W [via iAudiophile.net]