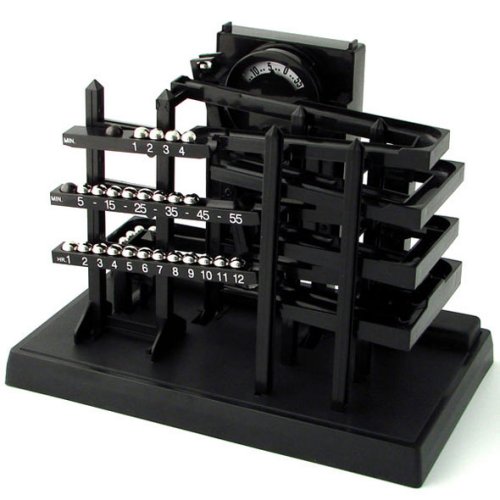 Before you get overly excited, this kinetic clock in all it's beautifully designed goodness, will not send you back and forth in time. It will look great in your home and at the same time spice up the now boring art of telling time. Plus, you get the added benefit of hearing your friends tell you how cool it looks. If you are looking for that piece of unusual art to jazz up a room, this may be it.
It uses it's many ball bearings to tell time by filling each of its marked scoops, minutes, then fives, and finally the hour. The ball bearing overflow drops to the next level. Simply count them and you have the time. Seconds are displayed on the dial on top. It has a precision movement mechanism that ensures complete accuracy, so you can trust the balls to give you the correct time.
That's a lot of wow-factor for $80. You might call it "Time in motion". How could you ever get bored reading the time again?