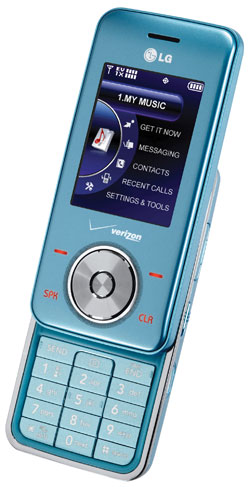 Verizon Wireless and LG Mobile Phones are out today with word of a new Chocolate by LG phone color for all you fashion trend setters. This time around the color is dubbed "Blue Ice" and it is priced at around $80 and contract and rebate.
Verizon says this of this phone that "the silky-smooth slim slider design comes coated with a frosty blue finish." Choke! Silly marketing language aside, what you do have here is a colorful slider phone for those looking for something a little different. This Chocolate phone, like others in the series, has your traditional features like vibration feedback, navigation wheel with red trace motion lighting and microSD memory card expansion.
Other features of the Chocolate by LG: Blue Ice phone include a touch-sensitive keypad, 1.3-megapixel digital camera and Bluetooth support. Verizon says this phone will be available on December 7.