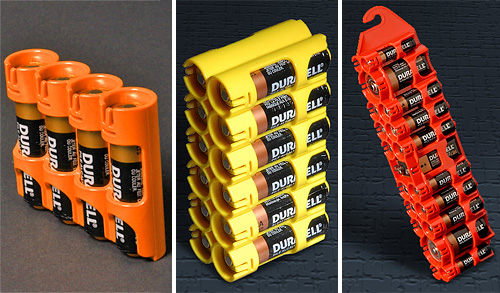 Sometimes the most ingenious solutions are the simplest. Anyone who has a junk drawer can immediately appreciate the Battery Caddy in all it's simplistic glory. My own junk drawer is practically overflowing with batteries of various sizes. Well, now I have an easy way to organize them before they lose their juice and are disposed of.
These were originally designed for Pilots to carry batteries in their flight bag in a convenient manner. The caddies have flexible teeth so the battery won't fall out, even if it is tossed around a bit and they even protect the terminals on each end of the batteries.
You can get them in an assortment of sizes for carrying large or small amounts of the same size battery, or even assortments of different sizes. You get your choice of 7 colors too, including glow in the dark. The price ranges from $4.95 to $13.95.
Your junk drawer won't know what to do with all the reclaimed space.