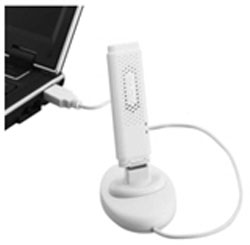 If, for some reason, your laptop doesn't have an 802.11 wireless card installed or you find yourself still banging around with 802.11b, you might want to consider this gadget from Asus. This computer gear manufacturer is has announced the Asus WL-160N, a wireless USB-based solution with 802.11n functionality.
The Asus WL-160N connects to a PC through a USB 2.0 connection to offer its host the latest 802.11n draft 2.0 specifications as well as being backwards compatible with 802.11b/g speeds. It's described as the world's smallest 802.11n USB 2.0 card, making it fairly portable inside a laptop bag. It uses MIMO technology to get a throughput of over 100Mbps.
The WL-160N works with both Windows and Mac operating systems. It comes bundled with an external cradle to hold the card while in use and also provides enhanced security for users by supporting WEP, WPA and WPA2 security protocols.