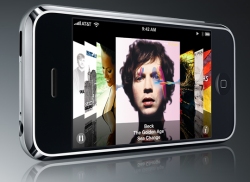 Apple's iPhone, winner of Time magazine's invention of the year, went on sale in France tonight allowing residents to finally officially get their hands on the popular media smartphone. There's more to the significance of this launch, however.
After months of bouts between iPhone hackers and Apple developers trying to keep the mobile phone "locked" and restricted to approved carriers, the French law requires that the phone not be restricted to any single mobile operator. France is the second country having this requirement for the iPhone after it was launched in Germany earlier this month and both countries are offering unlocked iPhones.
Although the iPhone is available unlocked to customers of these countries it doesn't go without somewhat of a catch, and in this case that catch is price. Mobile carrier Orange is offering the unlocked iPhones for a price of about $965 ($1,486 in Germany). A regular "locked" iPhone as is available from stores in the U.S. costs only about $593 in both France and Germany, compared to the $399 price tag for the 8GB iPhone in the United States.
Also, even though a consumer pays the premium to have the iPhone unlocked in France, using a SIM card from a different mobile operator runs the risk that the phone may not have all its functionality and may still have problems with firmware upgrades. Weighing out all these details makes the idea of buying a locked iPhone in the U.S. and illegally unlocking it for use in other countries sound like not too bad of an option.