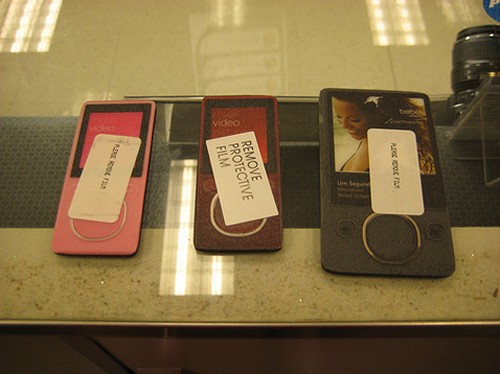 As the launch of the second generation Zune, or Zune 2, from Microsoft nears the rumors are flying at full steam regarding pricing and the features that the new media players will house. From what we've ascertained the launch is scheduled for October 3rd at midnight and will bring three new models of the Microsoft Zune player along with new features and content on the Zune Marketplace (iTunes for Zunes).
Along with some FCC leaks showing 4GB and 8GB flashed-based Zunes (codenamed "draco"), ZuneScene has the skinny on pricing along with some additional juicy details. These are still in the rumor stages mind you, but it looks like a new 80GB version will be going for $249 with an 8GB model going for $199 and a 4GB model for $149. The 8GB and 4GB models are expected to come in black, red, green or pink but the thinner 80GB will come in only black.
Early reports are also saying that all of the new players, even the first generation 30GB Zune, will have wireless Wi-Fi syncing on board. The new 80GB Zune will be slimmer than the others and have a generous 3.2-inch display and that rounded square navigation thing in the middle has been dubbed the "Zune Pad". (Not sure if we like that so much.)
The Zune Marketplace will also get some upgrades and will start featuring podcasts (podcasts?) and downloadable videos along with a wider selection of music which may even be DRM-free.
DRM, Microsoft, wi-fi, Zune, Zune 2, Zune Marketplace, Zune Pad