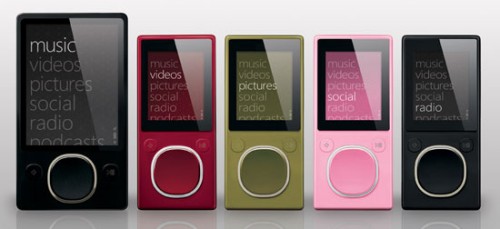 Today Microsoft has officially launched the next-generation Zune media player which consists of three new models launching in November, two of which house flash memory. The release also brings updates to the Zune Marketplace and an associated online social networking site centered around the player and sharing music.
The rumors leaked yesterday turned out to be pretty accurate for the most part. Microsoft is releasing two flash memory-based players in 4GB and 8GB capacities that look similar to the new Nano's and will retail for $149 and $199 respectively, which is also similar to Apple's Nano pricing. There is also an smaller, thinner 80GB Zune with a hard drive that will retail for $249 which comes only in black and has a 3.2-inch display. The flash-based models come in black, red, green and pink, no more brown.
One of the coolest features of the new Zunes is the ability to sync up with your computer wirelessly via Wi-Fi when you're in range, however you won't be able to buy any music through the player. That will still need to be done through your computer. The Zune Marketplace has also expanded its music selection and will be offering over 1 million DRM free songs. The site will also include music videos, but no movies. The new Zune will let you import content from your Windows Media Center now too, letting you take recorded video content with you and has added support for h.264 and MPEG4 file types along with WMV.
The new player continues to let users share music with each other with some added twists. The new Zune 2 player and software let you share music and "other content" with other Zunes but now the shared song will no longer have an expiration date. In the first generation Zune the song would expire whether you listened to it or not. You can also share a shared song along to others without the expiration but you can still only play the shared songs a maximum of 3 times. Also, even though some downloads from the Marketplace will be DRM-free it appears that the same 3-play rules for sharing will apply. Unfortunately this sharing feature only becomes useful if you come across another Zune owner which so far have been few and far between.
Microsoft is also launching Zune Social, a site similar to MySpace or Facebook which allows even those that don't own a Zune to participate in and share samples of songs. The network will allow users to display what they are listening to through computer-based apps onto particular websites or through email.
flash Zune, Media Players, Microsoft, Zune, Zune 2