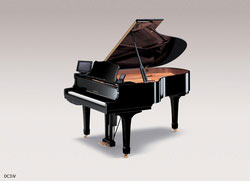 Player pianos aren't the first things you think of when you consider Internet enabled devices. Yamaha is betting you'll soon consider its Yamaha Disklavier line of pianos though as cutting edge music technology.
The Yamaha Disklavier pianos can now work with a Yamaha service called DisklavierRadio, which lets you stream music directly to the piano for it to play live. This MIDI music is accompanied by specially recorded ensemble parts and lets one choose from a variety of music stations including Broadway, jazz and piano solos. Music can also be downloaded to the piano's built-in 80GB hard drive for later playback.
Other features of the Disklavier pianos include an open-ended software system based on Linux, free Internet updates and a remote control. No word on specific costs.