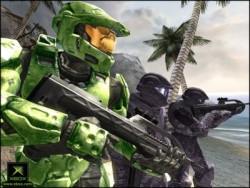 After almost a year of trailing in console sales, Microsoft's Xbox 360 has finally pulled ahead of the widely popular Nintendo Wii marking the first time since the Wii's launch last November that it hasn't been number one. As anticipated by many, Microsoft pulled this off with a little help from the launch of Halo 3 which earned $170 million on its first day and $300 million its first week and ended up spurring a number of Xbox 360 sales along with it.
Those sales totaled 527,000 units of the console in the month of September which was a significant jump from the 276,700 sold the previous month. Nintendo was no slump for September either marking 501,000 Wii units and 495,800 handheld DS consoles. Both figures were also significantly more than in August.
Sony's PS3, despite sales promotions and price cuts today still remains the most expensive major game console available with the lowest count is sales. September saw 119,400 Playstation 3 units leave shelves which was beat out by not only Nintendo and Microsoft but also by it's predecessor the Playstation 2 which sold 215,000 copies. Both of these were consoles were beat out by the Sony's handheld PSP at 284,500 sold.
It should also come as no surprise that in games sales Microsoft led the pack with Halo 3′s launch moving an astounding 3.3 million copies its first month. The next closest game which in this case we can hardly call competition was Nintendo's Wii Play selling 282,000 units.